We are excited to be getting in to the festive spirit at the Greater Vancouver Zoo by offering some Christmas themed learning experiences for our guests to enjoy. Be here and get involved from now until the end of the Christmas holidays!
Be here to Witness the Reindeer Enrichment Walk
On Saturday December 22nd and Sunday December 23rd, we will be carrying out an enrichment walk for one of our reindeers. This is a great behavioural training opportunity for the animals and a chance for guests to learn about one of the most Christmassy animals of all. Be here at 2pm to witness the reindeer walk from their enclosure to the map by the Oryx enclosure. The animal will be accompanied by a Keeper who will stop to deliver educational information and answer any questions you may have, making it a fun learning experience for all the family!
Fun fact: Reindeers are the only type of deer in which both male and female reindeer have antlers.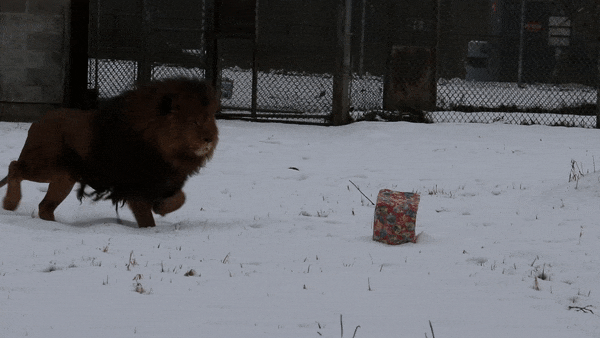 Be here for Festive Animal Enrichments
Enjoy witnessing a Christmas themed animal enrichment happening 12 pm daily from December 22nd until January 6th. Our animals will be provided with their own Christmas gift to open, designed as an engaging sensory experience for them to enjoy. You won't want to miss the fun they have hunting it down!
Schedule below:
| | | | |
| --- | --- | --- | --- |
| Dec 22 | Marmoset | Dec 30 | Camel |
| Dec 23 | Cheetah | Jan 1 | Porcupine |
| Dec 24 | Baboon | Jan 2 | Red Fox |
| Dec 26 | Cougar | Jan 3 | Lynx |
| Dec 27 | Feline (lion/tiger) | Jan 4 | Horse/burro |
| Dec 28 | Capybara | Jan 5 | Lemur |
| Dec 29 | Red Panda | Jan 6 | Musk Ox |
Be here for Cozy Train Rides* and Craft Activities
Worried about getting chilly as you enjoy a train ride through the zoo's beautiful acreage? No problem! From Friday December 21st until Monday December 24th we will be supplying blankets to keep you nice and cozy. We will also be spreading festive warmth with complementary hot chocolate available at the Animalasium Learning Centre. While there, take part in some of our craft activities which will run from 10am-3pm throughout the Christmas holidays.
*Please note train is an additional fee. For full pricing information, please visit our daily rates.
Be here to spot our Reindeer Elf on the Shelf
Our own Elf on the Shelf with a twist! One of Santa's Reindeer Elves is visiting us and he'll be popping up around the zoo before Christmas Eve. We need your help in identifying where he is so we can track him down. Keep a close eye on our social media pages for clues to where he is hiding and see if you can hunt him down when you visit the Zoo. We would love to see your photos so if you spot him then please share and tag us! #BeHereGVZoo